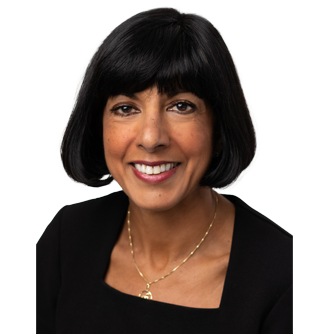 Dr Yasmin George
Dentist
GDC NO: 64095
BDS Lond 1988
BDS (University of London 1988)
Visiting Faculty and Advisory Board Member, The Pankey Institute, USA since 2009
Fellowship of International Academy Dental Facial Aesthetics (2013)
Fellowship of Pierre Fauchard Academy (2019)
Fellowship of International College of Dentists (2020)
Having qualified in 1988 from Guys Hospital Dental School in London, Yasmin has now been in general dental practice in Surrey for over 32 years.
In that time, she has accumulated a wealth of experience in treating patients of all ages with a wide range of needs. This experience, together with her commitment to continuous learning throughout her career, puts Yasmin in a unique position to help patients who require anything from routine care to more complex restorative rehabilitation or smile makeovers.
Yasmin has a Special Interest in Orthodontics, and has trained extensively and internationally to a Masters standard in orthodontics. For children she firmly believes in the need to be assessed and where appropriate, treat early, also taking into consideration the development of the whole face, airway, and sleep.
Yasmin has developed a reputation for successfully treating many dental phobic patients. She truly understands those who are anxious about visiting the dentist. Her thirteen-year accreditation with www.dentalphobia.co.uk is testament to this. She can offer the latest sedation techniques helping patients to conquer their fears, and benefit from what modern dentistry (such as The Wand: www.dentalphobia.co.uk/get-help/dental-techniques/the-wand) has to offer.
Yasmin believes in 'relationship based' dentistry. This means taking the time to get to know her patients so she can best advise, help and treat them. She believes that her patients should make informed choices about their treatment, so she provides as much information as possible and always tries to be both honest and realistic.
Yasmin has been at Oatlands Dental Lounge for over 7 years, she works part time, treating patients referred to her by local colleagues and her existing happy patients.
Throughout her career Yasmin has taken every opportunity to develop her skills. This has includes joining and serving in several Dental Academies and Associations.
"Giving back," and helping educate younger dental professionals as they develop their skills, is now an important part of Yasmin's professional life. She currently teaches at the Pankey Institute in Florida USA, and has taught at King's College Faculty of Dentistry, and sat on the Panel of Examiners for the Certificate in Dental Sedation for Nurses, and has been involved in the development of education in orthodontics for general dentists, working with internationally recognised orthodontic specialist Dr Derek Mahony, and City of London Dental School.
Yasmin is more than happy for anyone to contact her with any questions (yasmin@confidentsmiles.org) and would be delighted to discuss her field of expertise. Orthodontics is an exciting field, and she believes in making each patient happy, confident, and comfortable with their smile.
Yasmin has a large selection of "before and after photographs" on her website www.confidentsmiles.org and looks forward to building a long term, trusting relationship with her patients.
BACK TO TEAM